Car Accident Victim Asserts that Snapchat Partially Responsible for Injuries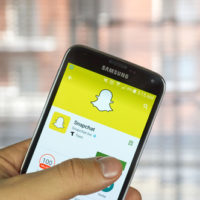 A man who was left with permanent brain damage after a serious car accident has recently filed a lawsuit, claiming that both the other driver and the makers of the photo-sharing app Snapchat are responsible for the expenses related to the injuries he incurred.
It was late at night on September 10, 2015, when Christal McGee, then 18, was out driving a Mercedes with three of her girlfriends as passengers. The victim, Wentworth Maynard, claims in his lawsuit that McGee was using Snapchat's speed filter as she drove, trying to get it as high as it would go. This filter uses the phone's accelerometer to measure how fast the user is going at the time a photo is taken, printing it on the photo. As Maynard attempted to merge onto the highway on which McGee was already traveling, he claims that she was driving, distractedly, at 107 mph. McGee claims that Maynard drifted into her lane unexpectedly, thus causing the crash. Regardless, McGee collided with Maynard, sending his car into the center embankment, and sending McGee's car off the road. Both drivers were taken to the hospital with injuries, though Maynard's were far more severe than McGee's. While McGee was strapped to the gurney, dried blood still marking her forehead, she took a photo of herself using Snapchat, captioned "Lucky to be alive." Maynard's attorneys released this photo to the media shortly before filing the instant lawsuit. While local police had not yet issued any citations in conjunction with the accident, the photo spurred the police to open an investigation.
Maynard would end up spending the next five weeks in the intensive care unit, according to his lawsuit. Since the accident, he has been unable to return to work and is suffering from permanent brain damage. He is currently unable to get around without the use of either a walker or wheelchair. Maynard is seeking money damages to cover his expenses resulting from the accident.
Maynard believes that Snapchat failed to uphold a duty to avoid allowing an unreasonably-harmful product to remain available to users. He claims in his lawsuit that Snapchat developers had a "responsibility to act reasonably to take steps to eliminate risks associated with their products," and, knowing the injuries that have already been attributed to the speed filter, were negligent in not disabling it. Prior to Maynard's accident, numerous online petitions implored Snapchat to disable the speed filter, and another crash involving recklessly high speeds by a driver using the speed filter had left a woman with serious injuries. Snapchat denies any liability, claiming that the warning the app provides not to "Snap and drive" is sufficient to place any responsibility for injury back in the hands of users.
If you've been hurt by a negligent or distracted driver in New Jersey, seek help in getting the money damages you need to recover by contacting the skilled, trial-ready Wayne personal injury attorneys at Massood Law Group for a free consultation on your case, at 973-696-1900.